Discover more from Fiction for the Cosmically Disturbed
Musings from the genre underground by father, author, and weirdo Lucas Mangum.
Less Than Pulp, Issue 30
Hard Freeze, New Collection, and the Glory Days of Full Moon Features
I'm writing this on Saturday morning because I doubt if I'll get the chance to write this on Christmas day. It's cold here in Central Texas. An arctic wind swept the nation this past week, so we had to drip our faucets, mostly stay inside, and dress extra warm. I'm also caring for my neighbor's cats and chickens while they are away. Thanks to everyone who reached out and asked after my family. We haven't lost power or had to boil our water—we've been very lucky.
I'm putting the final touches on The Bleak Season and Other Stories. It's a collection of four ghost stories, varying in tone, but all dealing directly with the subject of death and how we grieve. Here's the back cover copy:
Less Than Pulp is a reader-supported publication. To receive new posts and support my work, consider becoming a free or paid subscriber.
"It's the coldest time of the year: The Bleak Season, the time where nothing grows and everything dies. For some, it even comes during the warm months. In his newest collection, two-time Splatterpunk Award-nominated author Lucas Mangum brings you four dark tales about what happens when death comes early and how those left behind cope with it.
In the title story, three men visit the grave of a friend on a winter night. Something unfriendly follows one of them home.
When a teenage boy's rash decision leads to tragedy, he's determined to reverse the irreversible in the three-part "One and Only." To achieve this requires the darkest magic and no margin for error.
In the fallout of her friend's mysterious death, Erika is determined to make sense of what transpired. But the same force that took her friend to the underworld might be the only thing that can save her from a terrible fate in "Danielle's Last Dance."
Plus, The Bleak Season also collects the acclaimed October story "Bone Cider" where a sudden tragedy leads a young boy on a dark odyssey one cold autumn night and the embrace of a bizarre family tradition.
The Bleak Season is a collection of supernatural tales for fans of Ray Bradbury, Richard Laymon, and R.L. Stine."
That's right, gang! "Bone Cider," which found a nice little audience on Godless in late 2021 will finally be available in paperback. I'm hoping to have the book out sometime this coming week. I'll post the title story in its entirety here on the day of release, along with links to Kindle and print editions of the full collection.
---
I've been on a Full Moon Features kick lately. Younger folks may only know them as purveyors of ultra-cheapies like Evil Bong and Gingerdead Man—in other words, barely a step above SyFy originals or the mockbusters put out by the Asylum. However, from the mid-eighties through much of the nineties, they made up a sizable niche of the home video horror market. Series like Puppet Master and Trancers and works like Head of the Family and Demonic Toys were touchstones for a whole generation of genre fans.
See, Charles Band (the owner of Full Moon) was (and maybe still is) a shrewd and savvy businessman. Look at these covers.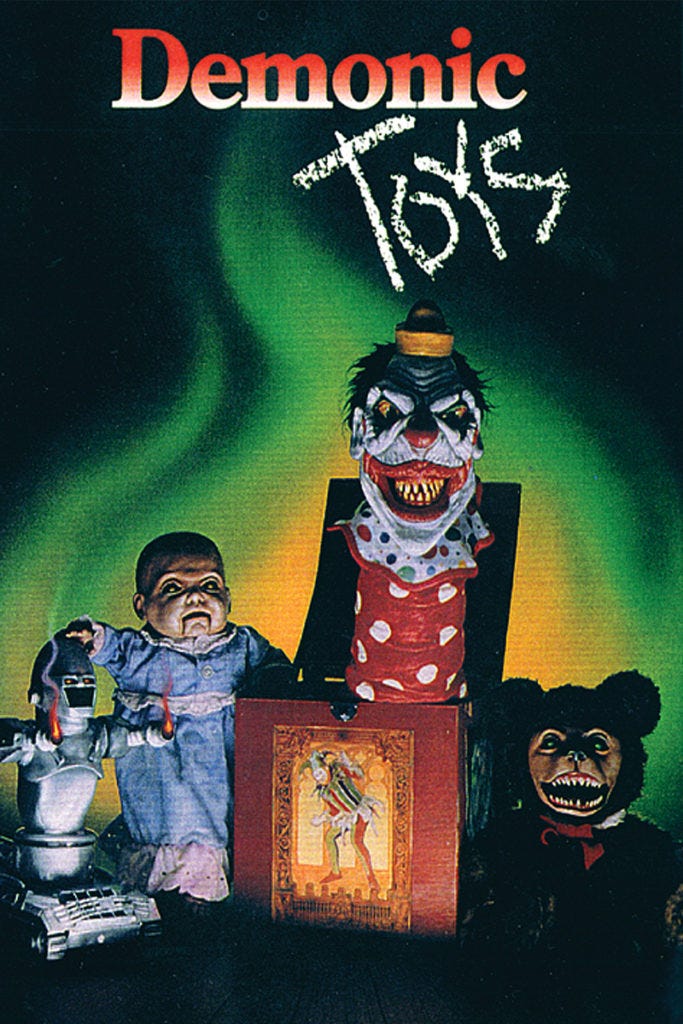 Scary, sure, but they're just nonthreatening enough for parents browsing the video store with their kids. If they didn't know these films or give much thought to the rating on the back, they would have no problem renting them for their preteen (or sometimes younger) children who would then be exposed to gore and sexual content in a playful package. These movies were prepubescent liminality on tape. As such, they served as gateway drugs for kids like me who were looking for edgier material but not quite ready to let go of their innocence.
In the past week or so, I've watched Puppet Master 4 and 5 (directed by Jeff Burr and featuring the puppets in heroic roles), Hideous!, Shrieker, and The Pit and the Pendulum (directed by Stuart Gordon of Re-Animator fame).
The standout among these was definitely Pit because it's the meanest. I kept waiting for it to feel fun like the others, but aside from a few jokes, it maintains a dark tone throughout. I wondered if this could be the same Stuart Gordon who gave me so many laughs with Re-Animator, but then I remembered that his other Poe adaptation, "The Black Cat" episode of Masters of Horror, was also an absurdly grim affair. It makes sense that he would go for such a different vibe for his Poe films than his Lovecraft adaptations, but after watching Hideous! and Shrieker, it was jarring. This isn't a bad thing, by the way—I enjoyed it quite a bit, just wow.
Hideous! was a riot. It's one absurd frame after another. I can't believe I'd never seen it before. In the hands of a lesser creator, the scene featuring a roadside stickup would've been a straightforward affair. Here, the gun-wielding assailant wears nothing but a miniskirt and a gorilla mask. Why? What's the metaphorical significance? What does it mean? These are the questions you may ask yourself if you're part of the "elevated horror" crowd. Charles Band (who directed this outing himself) would tell you to just go with it, and he has a point!
While I have no problem whatsoever with the horror movie as prestige picture (or horror novels as literary fiction), I do think it's important to recognize when what you're making is explicitly not that. Not everyone needs to have lofty aspirations—they can work within their own framework and fully exploit their concept instead of reaching for higher metaphors that might not actually be there.
With that said, here's a writing exercise: Come up with an idea for a horror story (or take an existing idea that's got you stuck). Instead of asking yourself what it means or what the overall theme is, ask yourself how you can take the concept itself and execute it to the nth degree. I'm interested in what you come up with. If you're not shy, shoot me an email, and I'll even take a look at it/critique it. Don't send me a full novel or anything, but I'm glad to look at an elevator pitch or even a short story/script.
As I've established before, I can't really play the social media game like some of my peers, but I do believe in helping other writers. So, that's my offer. You won't have to give me money or download a course or hop on a Zoom call with some weirdo whose ad popped up on your YouTube video. Just send me your pitch or short piece, and I'll give you notes.
---
On this week's Make Your Own Damn Podcast, Jeff fought through a bout of Covid to talk with me about Mike Dougherty's holiday horror flick Krampus. You can check it out here or at the video below.
---
That's it for this week. If you enjoyed this newsletter, don't forget to Like, Share, and Subscribe. That's the magical formula, is it not?
But seriously, thank you to everyone reading these. It seriously brightens my day when I see how many of you there are, and how the number of you grows each week. I hope everyone has a good holiday and stays warm.
Less Than Pulp is a reader-supported publication. To receive new posts and support my work, consider becoming a free or paid subscriber.